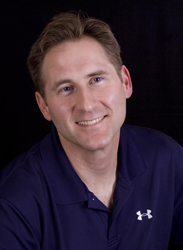 Skating Jump Secrets is brought to you by Trevor Laak. Trevor is a member of the Figure Skating Club of Madison in Madison, WI and specializes in on-ice jump technique. He works almost exclusively as a consultant to other skating coaches by providing pole harness, video analysis, and regular lesson services to them and their skaters. He's also a faculty member of Audrey Weisiger's Grassroots to Champions Seminar Series. He has also been a presenter at the Professional Skaters Association World Conference as well as other local and regional PSA events.
If the information on this website interests you, please be sure to check out Trevor's coaching blog where he shares some of his ideas about coaching as well as more of his research findings. His own research focuses on quantifying minimum athletic requirements for figure skaters. Laak has a graduate research degree from the prestigious University of Wisconsin in Madison. He holds 6 patents and he has provided technical consulting for a number of Fortune 500 companies.
And if you really want more great information like this, as well as the very best tips and information from the best coaches in the world, be sure to check out iCoachSkating.com. iCoachSkating is a paid membership website providing a continuous stream of the latest information about how to figure skate and how to teach figure skating. The huge searchable archive of videos is available to all members.
To get a message to Trevor, please fill out the form below.